Codon, a Python Compiler written with C++ and LLVM
High performance and no overhead! In a test I did, the performance gain was greater than 600%.
---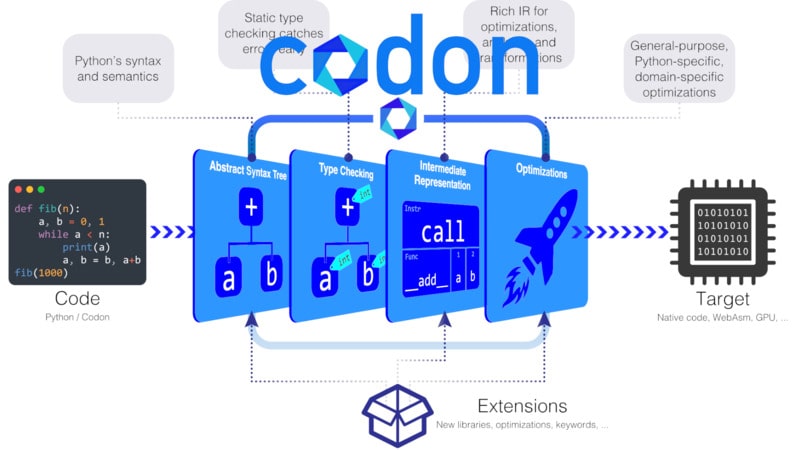 ---
Codon is a high-performance Python compiler that compiles Python code to native machine code without any runtime overhead.
The compiler was written with C++ and uses LLVM as the final assembly code optimizer. Unlike Python, Codon supports native multithreading, which can lead to even greater speedups.
---
Installation
You can compile Codon on your own machine, however there are precompiled binaries for Linux and macOS.
In the case of Linux just run this command below:
You must have cURL installed.
At the end of the installation it will ask you to confirm the addition of the binary to your $PATH variable, press y for yes. If it doesn't work, even opening it in a new terminal, as he advises, run the following commands:
To test run:
---
Usage
Suppose you have this code Python which is a Fibonacci function, you can interpret the code with Codon itself:
To run without compiling:
However, the performance will not be very good. The correct thing is to compile this code to a binary and then run the binary, example:
You can still compile with [LLVM] optimization(https://terminalroot.com/tags#llvm)
---
Analyzing the performance
When we used a for loop with 1 million cycles in Python, as we did in this video, Codon was about 600% faster than native interpreter (version 3.10.9).
Test file/code can be obtained here.
Result using /usr/bin/python
That is, actual execution: more than 6 seconds. 😞
Result using codon
Actual execution: in less than 1 second!!! 😲
---
Useful links
---
---
---
---