Get detailed information of an IP
Country, state, city, if you have a proxy and among others.
---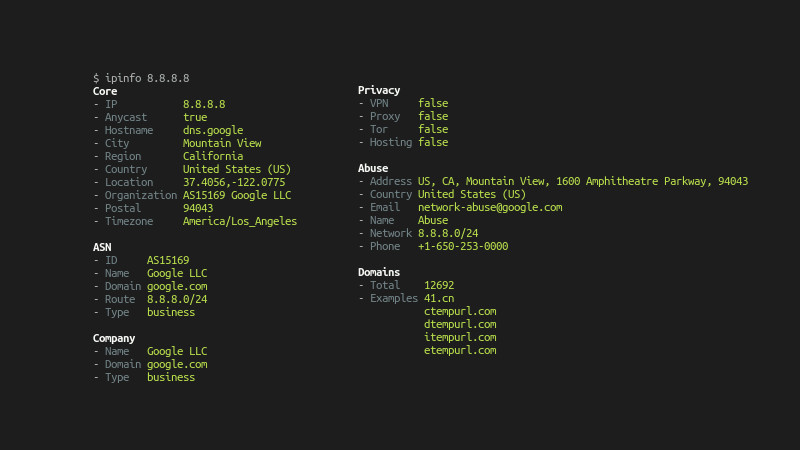 ipinfo is the official CLI tool for the IPinfo.io IP address API, allowing you to:
Look up IP details in bulk or one by one.
Look up the ASN details.
Summarize details for up to 1000 IPs at a time.
Open a map of IP locations for any set of IPs.
Filter the IPv4 and IPv6 addresses from any entry.
Print IP lists for any CIDR or IP range.
And more!
Installation
You will need to have the Go programming language installed on your system in addition to Git.
After that run the commands:
Then remove the cloned directory: ipinfo-cli.
Use
To get a help of the parameters, just run the ipinfo command, something like this will appear:
To get data from your own IP, run:
Find out the IP of a given URL and get detailed information with ipinfo:
Example, get data from the URL: https://en.terminalroot.com.br/
Output in JSON format
The parameters must be indicated at the end of the command.
See an example GIF usage:

For more information access the links below:
---
---
---
---