How to Create, Apply and Use the patch command
An easy way to add additional features.
---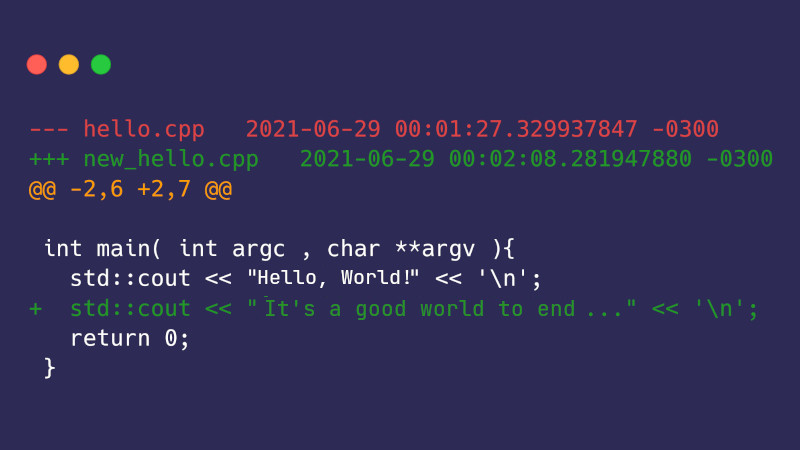 ---
Concept
According to wikipedia: A patch is a computer program created to update or correct software in order to improve its usability or performance. When patches fix bugs or security vulnerabilities, it is called a bugfix.
This technique can be used as one of the ways to distribute a software release. It is widely used in computer games in order to update the available content.
The patch UNIX command: A patch (Unix) is a computer program on the UNIX operating system that applies the textual differences between two programs and, more often, to computer files containing those differences, or diff files.
According to manual: patch takes a patch file: patchfile containing a difference list produced by the diff program and applies those differences to one or more original files, producing versions.
Normally, corrected versions are put in place of the original.
---
Syntax
Practical example
Suppose you have the following file in C++:
vim hello.cpp
And then you create a new one based on it and change a few things:
vim new_hello.cpp
When you run the command diff with the parameter -u you and generate a patch file: file.patch:
And then the contents of file.patch will have the following code:
Although this example is basic and you can change the line manually, in most cases on larger projects it would be a lot of work.
So, to apply the patch, as we saw in its Syntax above, just run the patch command:
And if you look at the contents of hello.cpp you will now see that it is identical to that of new_hello.cpp.
Easy, huh? Of course, there are still a lot of options and it's worth taking a look at the manual and help:
See too
Just applying a patch.
---
---
---
---