How to Customize Your VIM From Zero to C/C++ (Ubuntu Cinnamon)
These procedures will also apply to other programming languages.
---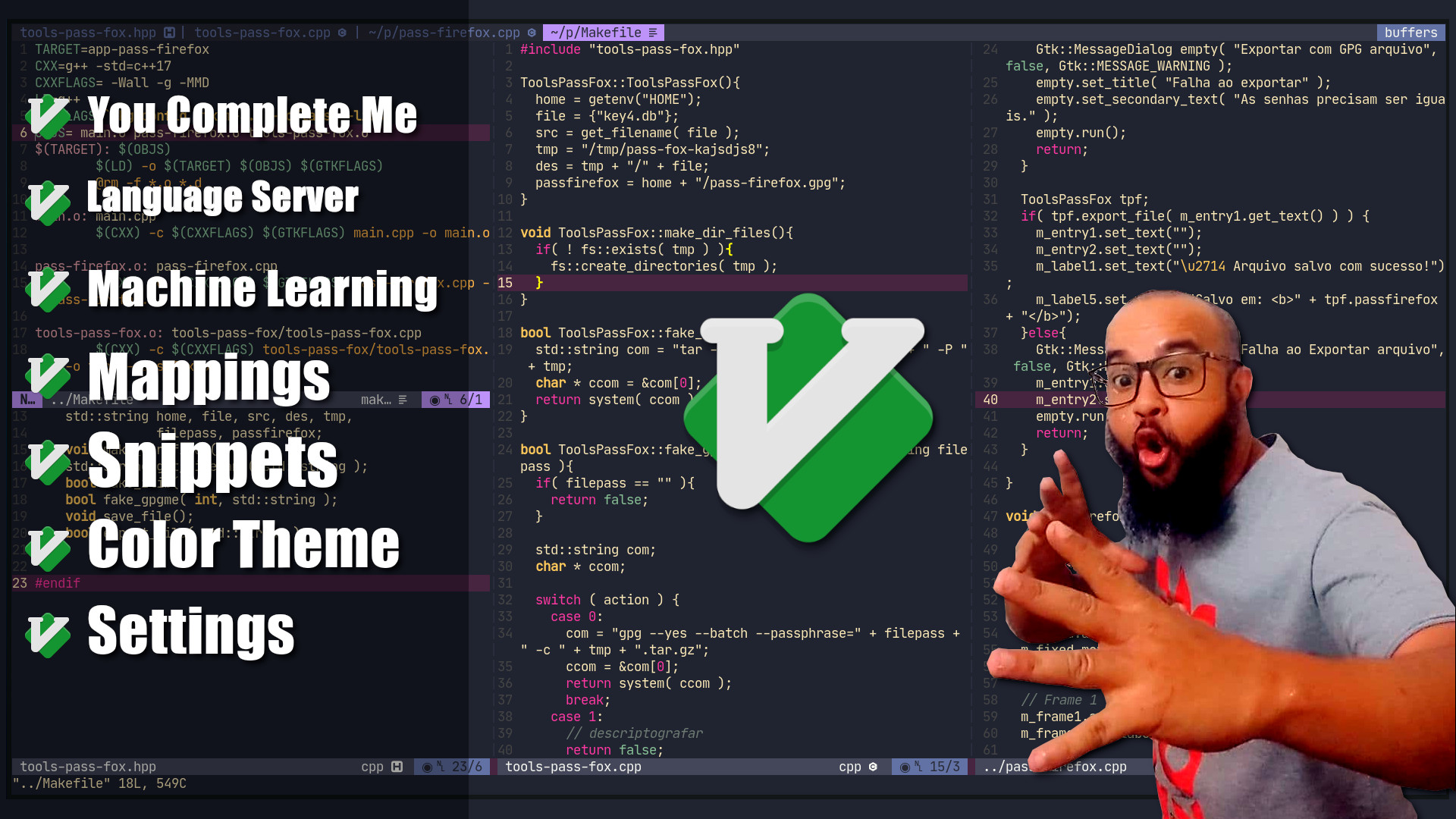 In these article we install plugins for:
Powerline for Vim Airline
Mappings
In addition to additional Tips
The procedures were performed on Ubuntu Cinnamon
All settings
---
01. Update your system
---
02. Install Vim, curl and Git
---
Add to ~/.vimrc
The plugin https://github.com/terroo/vim-simple-emoji will be used to test if everything is working.
Close ~/.vimrc and open it again and then run:
Test to see if it's working:
Type :smile: and give space then, if the face appears: 😃 it's because everything is right! Or run :ShowEmoji.
---
04. Install fonts
---
05. Install a vim color theme
colorscheme pinkmare " OPTIONAL: hi! MatchParen cterm=NONE,bold gui=NONE,bold guibg=NONE guifg=#FFFF00
---
06. Additional and optional lines of my preference
---
07. Interesting mappings
---
Add to your .vimrc: Plug 'ycm-core/YouCompleteMe'
Complete the installation:
Save this file: .ycm_extra_conf.py in ~/.vim/.ycm_extra_conf.py
Add this for others libs:

vim ~/vim/.ycm_extra_conf.py
09. Settings to YouCompleteMe
I came testing.cpp
By typing #include <iostream> and #include <vector> it will autocomplete! If not, add this line to your ~/.vimrc
Removing the drop-down window when using the autocomplete, add this line:
To disable write-time diagnostics:
Compiling: :terminal and g++ test.cpp, to exit the terminal: exit.
---
---
Copy this code and paste into your ~/.vimrc
Note that when autocompleting now it automatically adds a header, if you don't want that to happen, add this line to your .vimrc: let g:ycm_clangd_args=['--header-insertion=never']
---
To work add this code:
Edit snippets in: .vim/plugged/vim-snippets/UltiSnips/cpp.snippets or .vim/plugged/vim-snippets/snippets/cpp.snippets
---
Bonus
Install TabNine and make it compatible with YouCompleteMe
---
Watch the video
If you want to see all the steps above on video I recommend watching the video below. However, the video is in Brazilian Portuguese, but you will be able to follow the commands and settings without any problems.
---
---
---
---