How to use VIM together with VSCODE
Use Vim commands, mappings and others together with VS Code!
---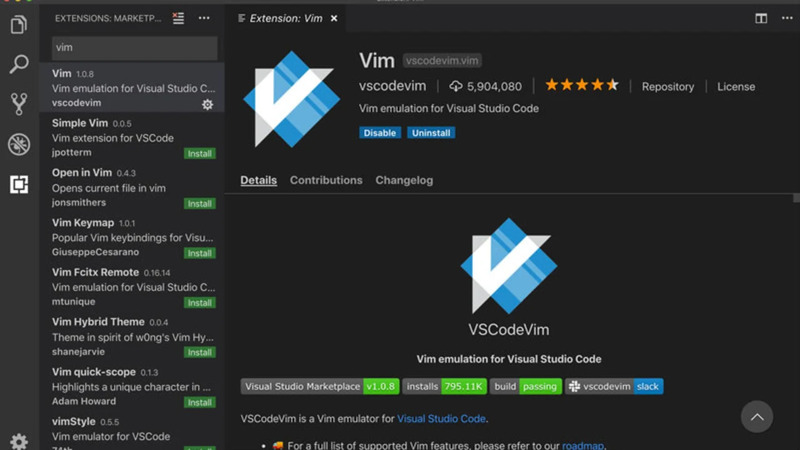 ---
If you are one of those people who like Vim, but at the same time I really like VSCode, then this article is for you!
VSCodeVim is an extension for VSCode that makes it possible for you to use Vim shortcuts and commands inside VSCode!
---
Installation
To install this extension click on the extensions tab and write in the search bar: VSCodeVim, select it and click on Install
common use
Once installed, the extension will already be automatically enabled, that is, when creating a new file you should and will be able to use the modes: Insert, Normal and Visual as it is in Vim.
Remembering that VSCode shortcuts will work simultaneously, for example: Ctrl + S to save.
Vim commands will also be available, examples:
:e ~/main.cpp
:vsplit file.md
:w
:!g++ ~/main.cpp
:q and among others!
---
Creating your mappings
To create your mappings:
type Ctrl + Shift + p or if you are on macOS, type CMD + Shift + p
Type: preferences
Select the option: Open User Settings type: Vim
Click on Vim and scroll down and click on the option: Edit in settings.json(Vim: Command Line Mode Key Bindings)
Erase the content and start from scratch, eg create a mapping to open the search command, but using the key combination: Ctrl + f:
Then test to see that it will be working!
Some shortcuts you create may conflict with VSCode shortcuts, but you can work around it by creating a <Leader> key, usually using the SPACE key or separating each character, for example, let's create one more shortcut to select everything with: Ctrl + a which in Vim would be the command: ggVG:
---
Customizing Colors
You can also customize the status bar colors, for example in the VSCodeVim repository there is the link vim-airline(https://github.com/VSCodeVim/Vim#vim-airline), copy the code and paste inside settings.json and change the colors as you wish!
#554477, #FFFFFF and #028800 for green!
---
How to create iabbr
You can also create abbreviations, for example create a code for MarkDown
Then test create a MarkDown file, example: :e ~/file.md and type code and press space.
---
And among many other things, for more information access the repository and the address through the links:
---
Watch video
The video is in Portuguese, but everything discussed here is in the video.
---
---
---
---