Learn to Program with a Terminal Utility
A Cheat Sheet via the command line.
---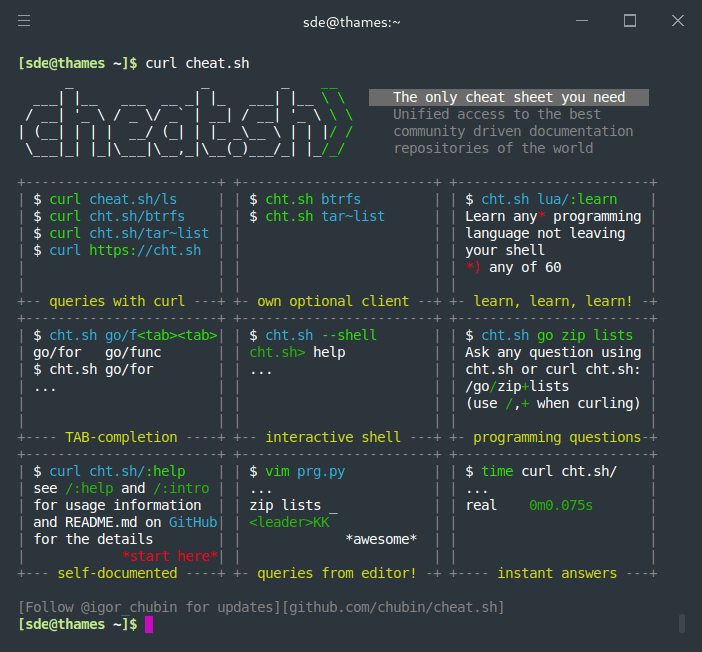 Cheat.sh is a command line utility based on a concise documentation repository dedicated to learning programming languages ​​from scratch. You have access to Cheat Sheet for 58 programming languages, covering all popular languages ​​and more.
Installation
To use it is very simple, you will need to have [curl](https://en.terminalroot.com.br/12-tips-for-you-to-use-commando-curl-as-a-ninja/ installed and then just run the command below:
On the "home page" you already get a quick guide to use. And to use quick help, just rotate:
Using
Well, the use is as intuitive as the home page, but let's look at examples. Assuming you are studying the Lua programming languages ​​, just run the command:
Before that you need to have the dependencies installed, they are: xsel and rlwrap, use your distro's package manager (apt, dnf, pacman, …). As I use Gentoo, Portage allows me to search both dependencies on one line and install them: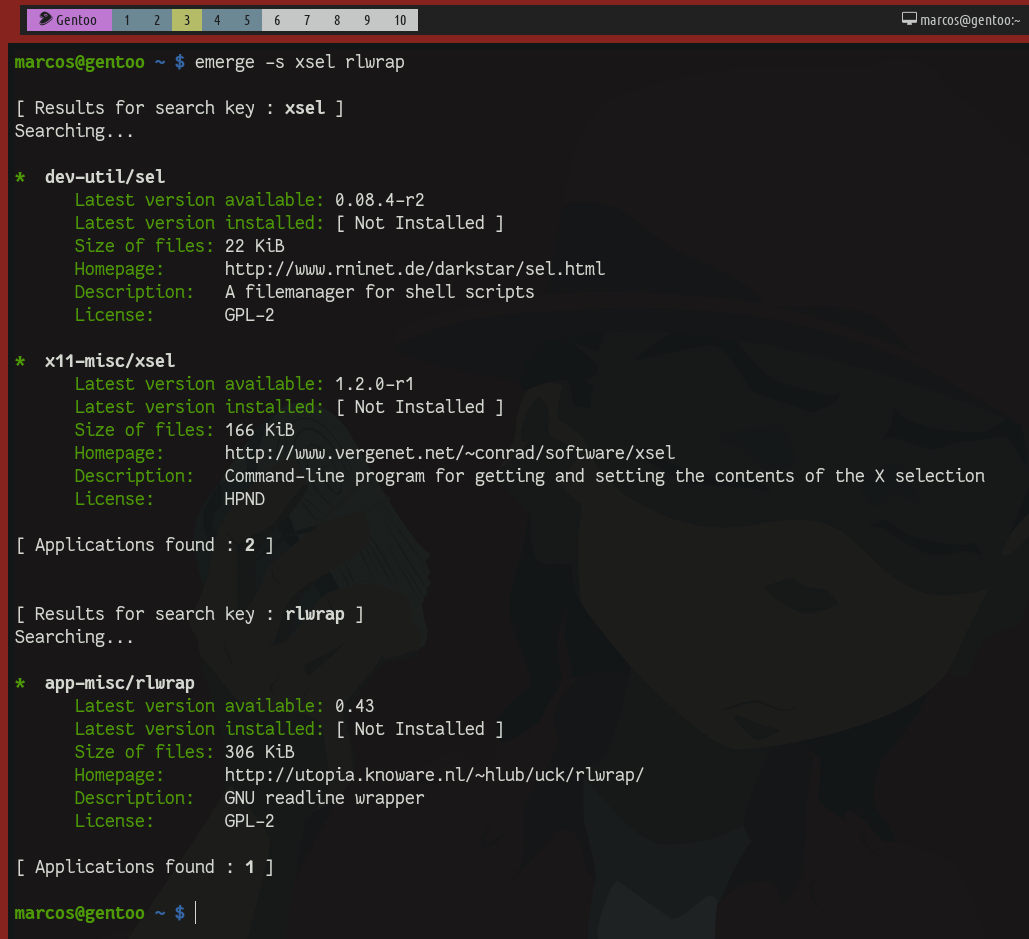 And then just install them:
GENTOO TIP If you also use Gentoo and are currently compiling some other software, don't wait for it to finish, Portage doesn't use locks .lock like APT that only allow a single instance, you can compile/install several parallel programs.
Of course, this will only be a brief introduction. But to go further, I recommend you get the utility on your system, for this: download and install globally with the commands:
This procedure is for BASH if you use ZSH, FISH or any other Shell change the configuration file ~/.bashrc by the corresponding file of your Shell, example for ZSH: ~/.zshrc
Command Line Use
Continuing with our example of programming languages ​​Lua. You can enter a subshell directly from the prompt, example, starting the shell inside the language directory:
The output will be similar to this image:

Within the subshell you can search for any content you want to get information, for example, search on Lua reverse lists:
Example:
To exit, just type: exit.
Cool, right ?!
Conclusion
I particularly use this utility a lot and I wanted to share it with you, because I believe that the readers of this blog are very similar to me and are studying several things today! :)
Remembering that there are several subjects and languages ​​in cht.sh for more details visit the website: cheat.sh and GitHub from them.
Thanks and see you next time!
---
---
---
---