LSP, Autocomplete and Machine Learning
We installed Neovim LSP, function signing, snippets and more and made it much more comfortable!
---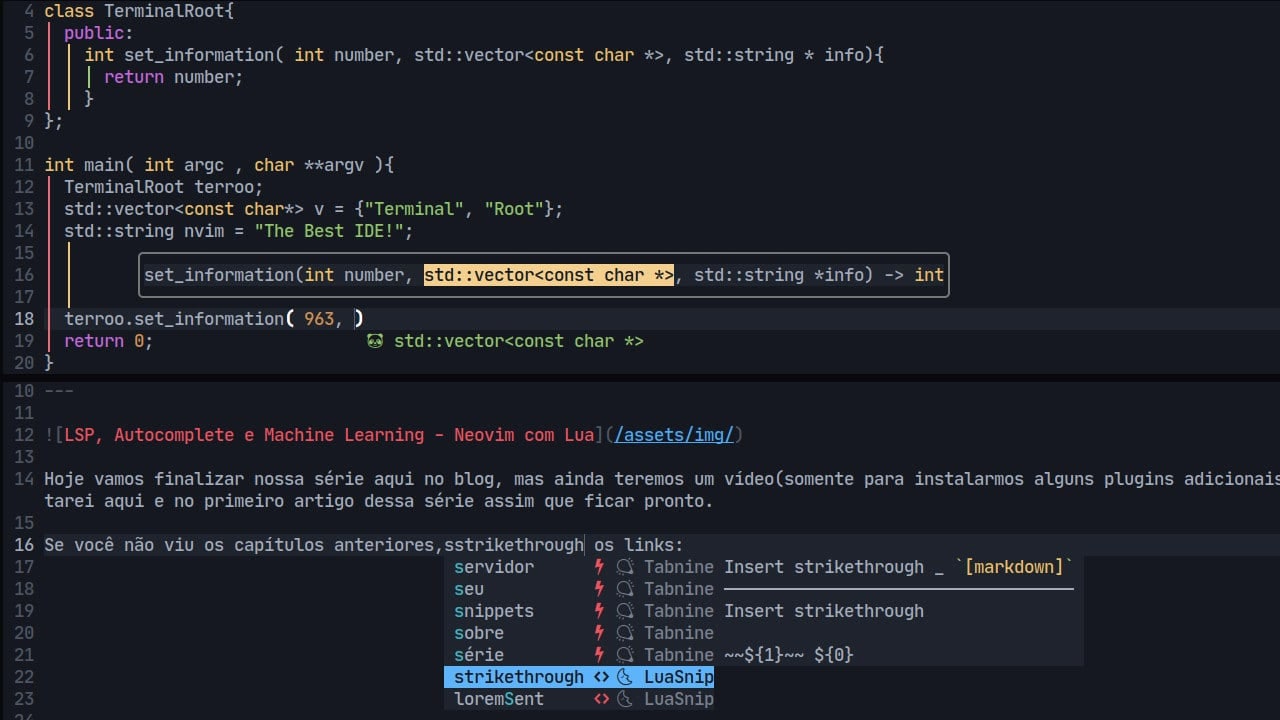 Today we're going to finish our series here on the blog.
If you haven't seen the previous chapters, follow the links:
And in this article we'll install and configure:
---
Installing LSP and Autocomplete
Right away we'll add all the plugins and then we'll create the configuration files because they'll all be nested.
Add these lines to your ~/.config/nvim/lua/plugins/plugins.lua:
Note that tabnine will run a sh script as soon as it is added and has nvim-cmp as a dependency.
And then run: :PackerInstall .
---
Configuring for Tabnine
Now let's create another file in : ~/.config/nvim/lua/plugins/tabnine.lua and add the code for Machine Learning:
Do NOT add it to your init.lua yet, as we are going to create a condition.
---
Settings for LSP
Let's create another file(~/.config/nvim/lua/plugins/lsp.lua) with similar code (you might think there will be duplicate code, but we are using all local variables and the file will only load accordingly with the later file we are going to create), but for the LSP:
---
Setting files dynamically
There are a few details to make everyone work normally. tabnine is interesting to run when there is no LSP available, I usually include it in Markdown files because it's easier, as when I'm writing code, it can mess up your LSP.
So, to separate let's do the following, let's create a file inside lua/plugins named complete.lua and insert the following content:
vim ~/.config/nvim/lua/plugins/complete.lua
And to load this new file, import into your init.lua:
---
Now just test!
See below some videos/gif/image of the plugins we installed:
snippets
---
Signature to Functions

Autocomplete
---
LSP Kind
---
Other articles in the series
---
---
---
---
---